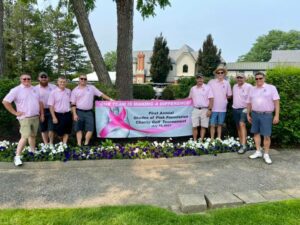 Founded on the simple principle that no person should have to forgo life-saving medical treatment to pay for monthly bills, the Shades of Pink Foundation works with individuals, businesses and organizations throughout the local community to build a comprehensive program that provides assistance to patients in need.
When the Shades of Pink Foundation needed sponsors for their first annual charity golf outing on July 19, 2021, at the Forest Lake Country Club in Bloomfield Hills, MI, MainStreet Design Build jumped on the opportunity to participate. The company not only provided all of the golf balls for the event but helped to fundraise in support of the organization's $75,000 goal.
The MainStreet team is made up of men and women inspired by the strength of women battling breast cancer while taking care of family, holding down jobs, and trying to make ends meet. The team is passionate about helping these women now when they need it most.
While this successful charity golf event started and ended on July 19th, the fundraising effort resumes. On July 19, 96 golfers showed up to play golf and raised $55,000 in 9 short hours, with nearly $17,000 in dedicated donations at the end of the evening.
Organizer, Chris Q. Gillespie of Morgan Stanley Wealth Management reports, "The event was a delight and by all counts a huge success. The giant Pink Blowup Dinosaur that was used for the chipping contest was also a big hit. We are so thankful to our generous sponsors who were the backbone of our fundraising efforts and of course the individual golfers and foursomes who joined us."
So many of us have seen cancer upend the lives of many brave women. We want to help ease the financial burdens of women facing breast cancer today so they can concentrate on treatment and healing. We can do this one woman at a time. You can help.
Please join us by signing up for SOPF updates, volunteering, or making a donation.
Next year, this event will be held at Orchard Lake Country Club on Monday, June 27, 2022. See you there!