Did you know that according to the National Safety Council, nearly three-quarters of preventable deaths caused by injuries happen at home? That falls are the leading cause of death from fatal accidents for people over 65? June was National Safety Month, so now is a great time to take a close look at how you and your family can improve home safety and accessibility through remodeling.
Determining Your Needs: A Four Step Approach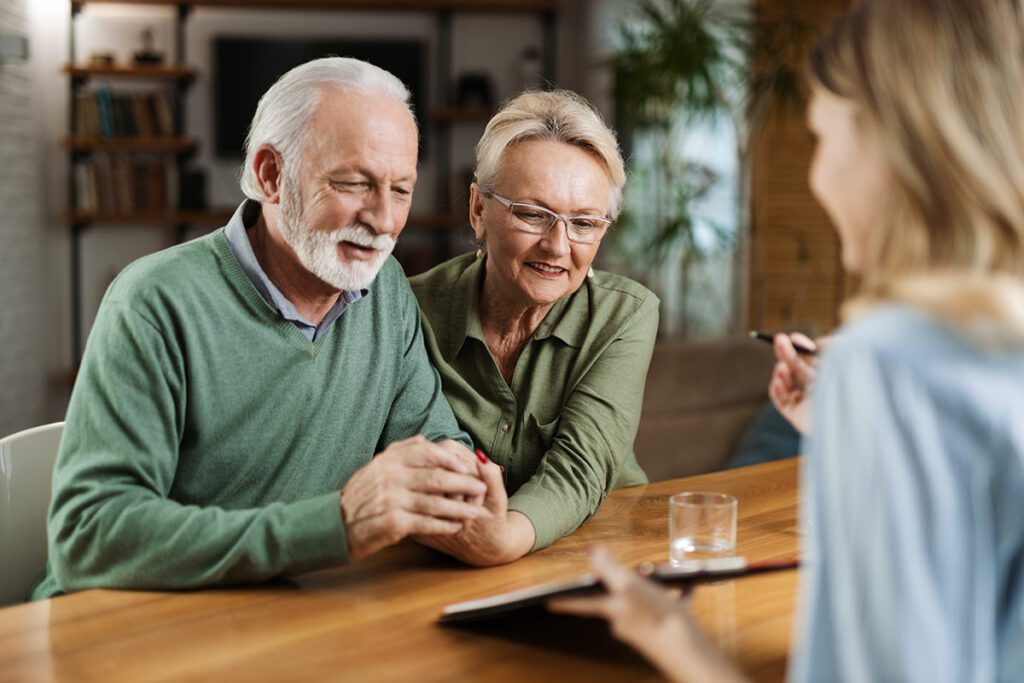 The first step is to understand the difference between the two types of safety-conscious renovation you've no doubt heard about: "Aging In Place" and "Universal Design". The goal of the former is exactly what the name suggests: creating accessible and safe living spaces throughout a home for people of all ages, from toddlers to seniors. The latter describes its intent, which is to adapt a home as the various needs of its residents change over time.
The second step is to determine your family's specific needs. Are you expecting or already have a baby? Conversely, might a parent or grandparent be moving in? Universal Design, when done right, will accommodate the needs and each and every age range. What about you and your life partner? Thinking of staying for many more years? An Aging in Place approach would prepare your home for every need, while adding to the convenience and luxury of your everyday lives.
The third step is to consider renovation ideas that can be applied throughout your home that would improve general accessibility and safety requirements for anyone needing canes, walkers, and wheelchairs, as needed. These include improving their mobility by widening spaces, doorways, hallways, and corridors, and reducing the risk of falls/injuries and easing transitions between rooms with soft wall-to-wall carpeting or stick-down carpet squares.
The fourth step is to prioritize the application of these accessibility and safety enhancements, wherever appropriate, based on your budget and family's needs. Since the two most trafficked and potentially dangerous rooms in your home are the kitchen and bathrooms, these are great places to start when thinking about Universal Design and Aging in Place remodeling. Let's take a look at specific improvements in those spaces, and then other areas throughout your home.
Designing Your Kitchen for Maximum Safety & Accessibility
Your kitchen is the most popular and complicated living space in your entire home, and therefore the most prone to accidents and challenging to accommodate for seniors. Luckily your home isn't the first to face these challenges, so work with a proven design build firm to ensure your family's safety and accessibility needs are identified, and expectations exceeded. The redesign will focus on opening up spaces, lower counters and storage, and smart appliances and lighting.
Open Up Your Space
Since your entire family gathers in your kitchen on a regular basis, open areas no doubt already abound. But if you add a family member or two who need help getting around, then extra space will likely be necessary around tables and chairs, countertops, appliances, and storage units. Creating a refreshed floor plan in an L- or U-shape, often with a centralized island, is a viable option. Ensure there's plenty of room for everyone, including seniors who need to maneuver easily in a wheelchair.
Varied Counter Heights and "In-Reach" Storage Solutions
Standard kitchen counters are 36" in height, too high for a family member with additional needs. Designing multiple-leveled surfaces with 30" lowered countertops and prep-sinks won't compromise convenience, while providing immediate access for everyone. Placing appliances like microwaves, convection ovens, and coffee machines in lower base cabinets also works, along with pantry drawers and other storage units safely and comfortably within reach.
Smart Kitchen Technologies
"Smart" appliances and lighting fixtures are a boon to the entire family, especially those who need them the most. Touch faucets that automatically turn off, and induction ovens that automatically turn on, are ideal. Ensure that everything functional in your kitchen passes the "one finger" test: lighting with dimmers, pull-out drawers, high tech appliances that obey voice commands and have built-in safety features are the way to go for the entire family.
The Universal Design and Aging In Place Bathroom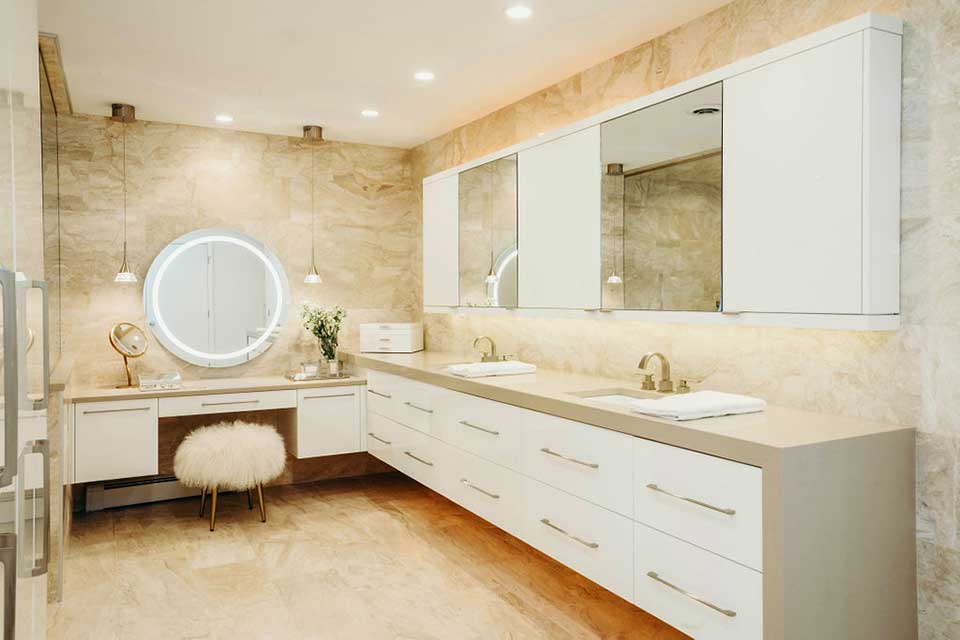 Second only to your kitchen, your bathrooms are arguably the most complicated and dangerous living spaces in your home. Not only is the risk of falling increased with wet and slippery surfaces, but the tighter quarters make access, lighting, and other expectations more difficult, too. Given that you likely have multiple bathrooms in your home, prioritize the main floor bath to ensure best and most open access for the entire family, especially those with additional needs.
Similar to your kitchen, opening up your space to accommodate mobility-challenged family members is important. Simply getting through the door can be difficult, so widening the doorway to at least 36" might be necessary. Varied counter heights is also advised, with an added option to install a removable base cabinet or below-counter seated vanity for anyone using a wheelchair. Embedding storage space can get rid of standing drawers or cabinets, freeing up floor space.
Taking an entirely fresh look at your bathtub is especially vital. Walk-in tubs, curbless showers with bench seating, hand holds and rails, flexible shower heads, and touch faucets are great options. Toilets are another cause for concern, and opportunity: install ones several inches higher, or height-adjustable ones with grips and rails work best. The solution is to empower every family member with complete freedom, convenience, and independence in every space.
Lighting is also key. Natural light through ceiling and side windows is best, supplemented by touch and even voice activated lights with dimmers and timers. Backlit mirrors and under-cabinet lighting look cool and are very practical. Slip resistant tiles and those embedded within grout for added resistance on all walking surfaces can help prevent falls. And don't forget easily accessible plugs and plumbing, towel racks and storage areas for optimal convenience.
Safety and Accessibility Considerations for Other Spaces
Although your kitchen and bathrooms need the most Universal Design and Aging in Place attention, other living spaces could use design enhancements as well, especially if young and old family members use them. For example, room additions and closets lend themselves well to safety and accessibility considerations, with options ranging from open space floor plans to specially designed closets with LED lighting, shoe racks, and other useful features.
With an eye toward protecting overly active toddlers from accidents on the one extreme, and accommodating mobility compromised seniors on the other, Universal Design best practices hide exposed electrical plugs and dangerous objects, create plenty of room for motion while requiring lower reach, they generally minimize demands on the user for turning things on and off, getting in and out, and performing basic functions around the home.
Whether you are redesigning a home office or entertainment area, or even an additional bedroom, safety and accessibility best practices focus on providing equitable, flexible, simple, and intuitive use for all family members. These enhancements also demand the least physical effort, are safe, and provide all information necessary for their use. The best Universal and Aging In Place designs work well for everyone in the family, regardless of their age, strength, mobility, or other factors.
With the housing market in Oakland County, MI in such flux, many residents throughout Birmingham are choosing to stay in their homes instead of sell. By partnering with a trusted design build firm, these and other Aging in Place design ideas can ensure that homes remain safe, with all features and benefits conveniently accessible. And if your family is growing with young or old family members, Universal Design could be right for you and your whole crew.
Remodeling is Best Done with a Trusted Design-Build Partner
MainStreet Design Build is a full service, design-build remodeling firm dedicated to creating a luxurious end-to-end experience through personal care, accountability, timeless design, and exacting attention to detail. Voted the #1 remodeler in Detroit and #2 general contractor in all of Michigan, since 1991 their in-house design team, staff of carpenters, and deep bench of skilled tradespeople have made the renovation process comfortable, enjoyable, and safe.
Having produced elegant results that transform remodeling dreams into stunning and functional living spaces, MainStreet Design Build is favored by discerning homeowners in Southeast Oakland County who value a high level of comfort and trust in knowing that their Universal and Age In Place remodeling project will be done RIGHT. Browse our luxurious gallery of award-winning local renovations, and schedule a virtual design consultation. Let's partner today!