Paint may have always been your go-to option for interior spaces throughout your home, but did you know that wallpaper is making a huge comeback? Once the heart of design legends, wallpaper dominated decor for decades from the 50s through the 80s — until almost overnight chic became tacky, "fresh" turned stale, and contemporary became antique. Then in 2018 the unexpected and exciting happened: wallpaper returned with a vengeance and is now hotter than ever before. Why the resurgence?
What's fashionable ebbs and flows, yesterday's over-the-top tropical or floral print is today's trending mania. Designers and homeowners are now hungrier than ever for the big, bold, and bodacious, and are leaping into today's wallpaper revival. Few things catch the eye and stir the imagination more than multicolored geometric shapes, brazen terrazzo's, abstract patterns, and scintillating speckles exploding across your living room and bedroom walls. The time has returned to blow everyone's mind!
The sheer benefits of wallpaper abound—a seemingly endless choice of patterns and styles; flexibility in arrangements, cuts, and borders; durability that protects walls from scuffs and children; ability to hide nicks and blemishes already there on walls; and smooth surfaces that are easy to clean and maintain. But the strongest allure is no doubt the ability to powerfully personalize — often in conjunction with paint — living spaces in astonishingly creative ways that make your interiors enviably unique.
Here are several wallpaper trends that have turned the intimidatingly permanent and stubbornly old-fashioned into the current rage of interior design. Make sure you work with MainStreet Design Build's very own Interior Design Services to take your homes' interior to a whole new level. With their proprietary 3-phase approach, our experts will 1) consult and brainstorm concepts with you; 2) create the detailed designs; and 3) transform that vision into an interior reality, using motifs such as:
Architectural Graphic
s
Imagine your living spaces given uncanny depth and perspective with geometric shapes, tessellating patterns, and photo-realistic interpretations of symmetrical designs. Arranged in various configurations, these architectural-style graphics create a highly contemporary look and feel, and can even create optical illusions and visualizations of movement that keep your guests guessing and talking about your wallpaper for weeks.
"New" Chintz
The name is derived from the Hindi chint, which means "spotted or variegated." Who doesn't like chintz, the world can certainly use more of it. Soothing floral decorations now enhanced with toile in eclectic motifs and vibrant tones, often enough to make Alice blush from Wonderland. The aesthetic result is a compelling mixture of searing contemporary flair with more traditional flavors, offering an amazing counterpoint to any modern furniture or innovative decor pieces placed in the foreground.
Murals
Geometric and floral patterns relax the eye and mind thanks to their predictable repetition, while non-repeating murals in various forms give an organic, luxurious feel to interiors. Whether abstract or scenic, hand-painted or machine-rendered, these wallpaper murals fill your living spaces with a sense of transcendence, classicism, and worlds beyond the room they so generously fill. Subtle color combinations and ethereal subjects imbue your atmospheres with an organic warmth you can't find elsewhere.
Tonal/Textural Motifs
A counterpoint to the big and bold, multicolored and multifaceted prints of many contemporary wallpaper motifs, this more subtle category focuses on monochromatic textures, delicate interactions with light, and a focus on two-dimensional design. The whole idea here is to bring depth and moodiness to a room with low-contrast prints, faux suedes, and subdued hues. With this kind of backdrop, your furniture and fixtures take on a life of their own, the backdrop more of an enhancement than a dominant effect.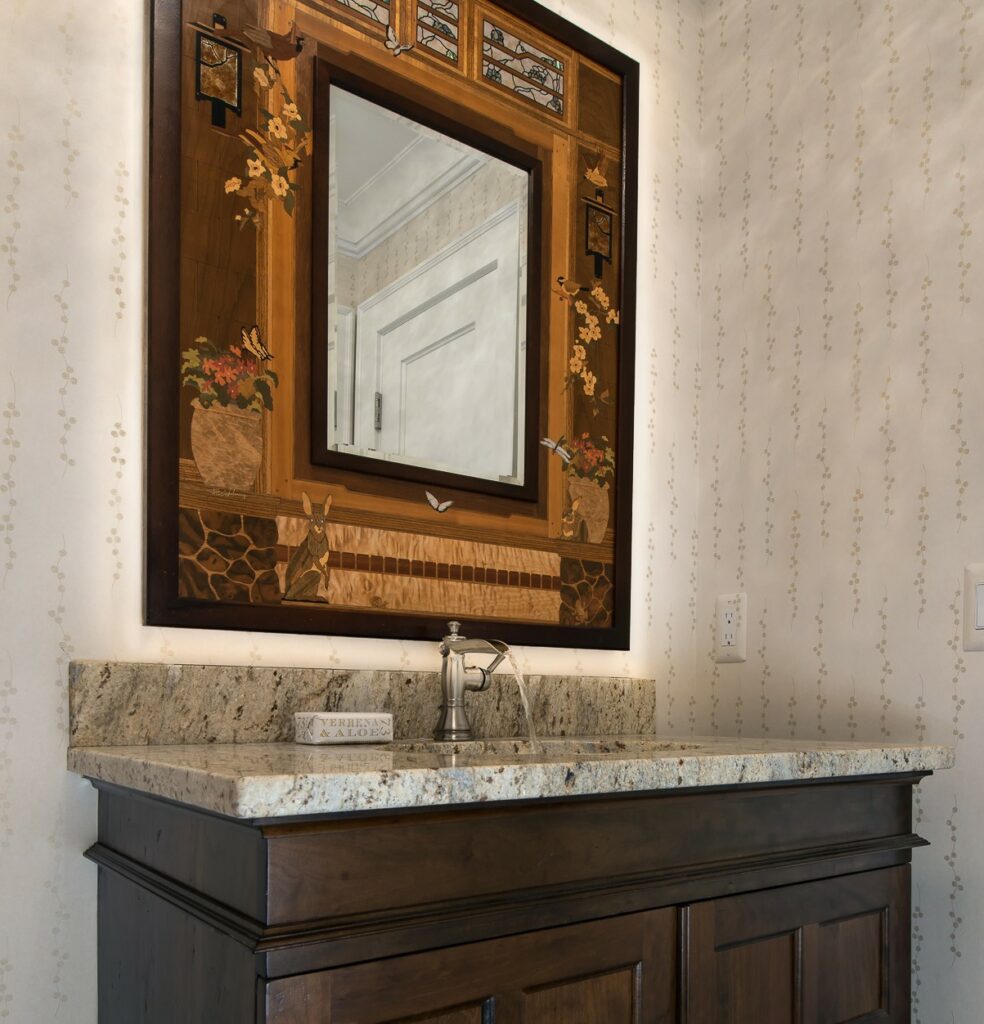 "Painterly" Renderings
The flip side of the heady mathematical is the emotionally resonant human touch, exemplified by this category of watercolor-inspired artistic designs. Mimicking the brushstrokes of celebrated painters, these wall coverings are thick in rich pigments, bold representations, and a sense of historical gravitas. These micro-print patterns are often grouped in creative themes, capturing a sense of refined classicism and bursting with impressionistic expression. Look closely and you'll recognize the distinct artistic styles.
Given all these possibilities, you're likely asking yourself: "To paint, or not to paint?" That certainly is the question. The easy answer is another question: "Why not do both?" Hardly mutually exclusive, painting AND wallpapering offers a burst of creative possibilities for your home, taking the advantages of each to overcome their respective weaknesses.
Talk to your MainStreet Design Build Interior Design experts to decide which option works best where — and don't hesitate to explore all the possibilities of combining them.
In summary, wallpaper has quickly gone from zero to hero, becoming the hottest trend in interiors. With the permanence and class homeowners expect, wallpaper also helps customize living spaces with unmatched flair and bravado. Despite the rage, paint remains not only a staple but a wonderful way to bring out the best in any room through highlights and contrasts with all the trending wallpaper motifs we've discussed. Consult with your friends at MainStreet Design Build to find the combination just right for you!