Hardly any aspect of a home accomplishes more in terms of functionality and aesthetics than custom built-in cabinets and shelves. You likely have seen plenty of creative built-in design ideas by pouring through magazines, on Pinterest, HGTV, or community sites like Houzz. One thing is for certain built-ins add style and personality, and even a dramatic statement, to any living space.
Start Planning Your Remodel Today!
Advantages of Built-ins
Built-ins blend into your décor rather than standing out—creating a coherent look that makes a room feel open and airy. Built-ins also create a smooth transition between living spaces, expanding a room's possibilities. Ideally, built-ins look like a part of the home itself—blending seamlessly for an overall minimalist appearance.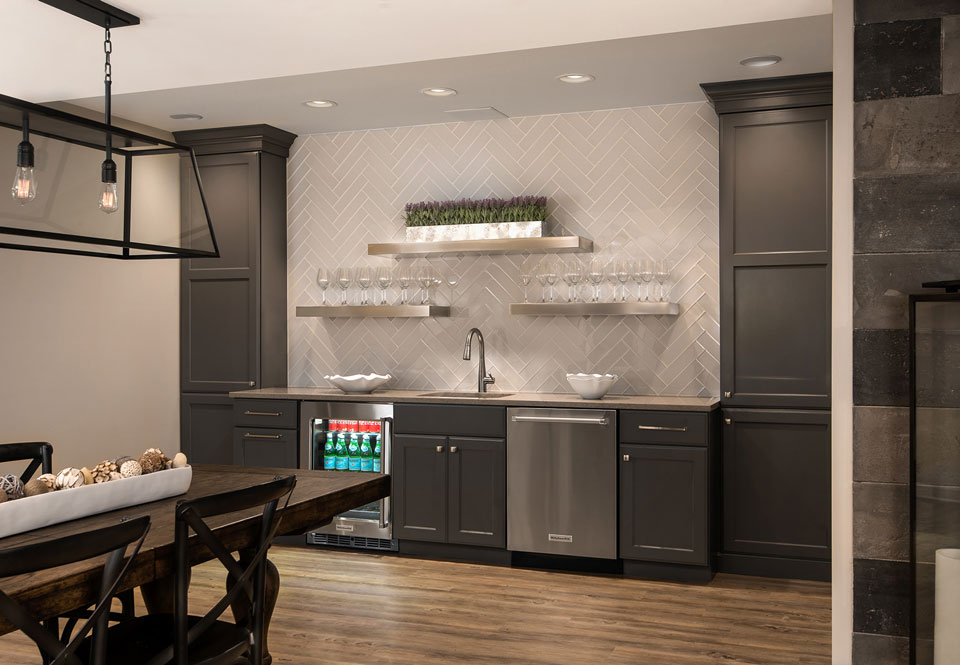 One of MainStreet Design Build's specialties is designing and building built-in custom cabinets and shelves that function as gorgeous focal points throughout the home. As MainStreet Design Build's founder and president Steve Ramaekers says, "These focal points can be made around fireplaces, entryways, window seats, or display cases for artwork. The important part is blending the casework into the architecture of the home."
Is there an ideal time to use built-ins?
Particularly for small and awkwardly shaped spaces (like under the stairs or stooped roofline), built-ins are a perfect way to transform underutilized space into valuable areas in your home.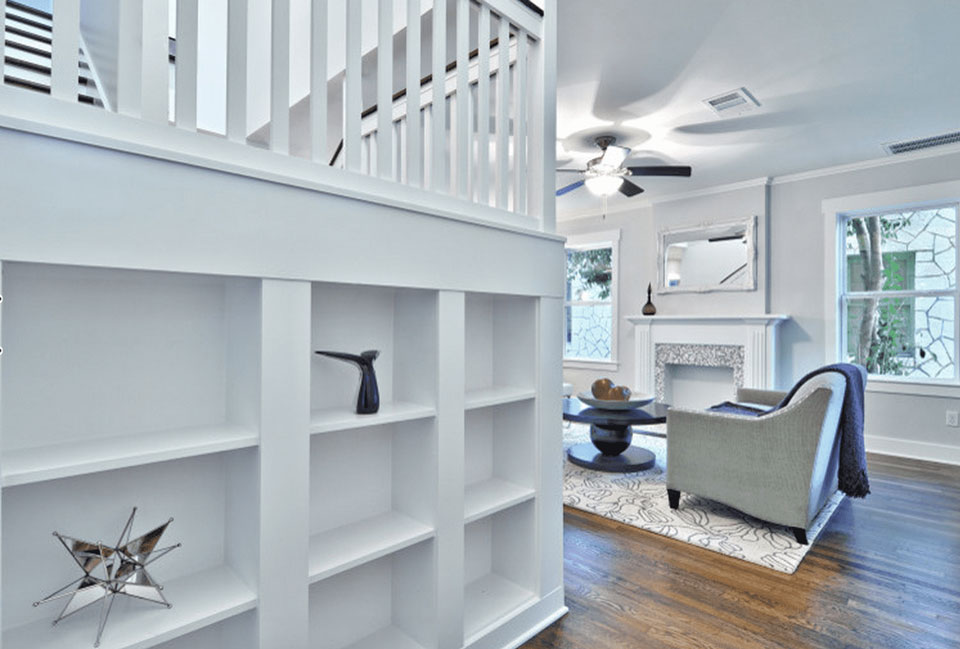 Built-in Furniture Provides Plenty of Storage
Hiding away your prized collection? Now is the time to display it. Whatever your passions are—antiques, glassware, paintings or books, you can customize a place to display them and show them off in style. Moreover, you can occupy an entire wall without the room looking smaller.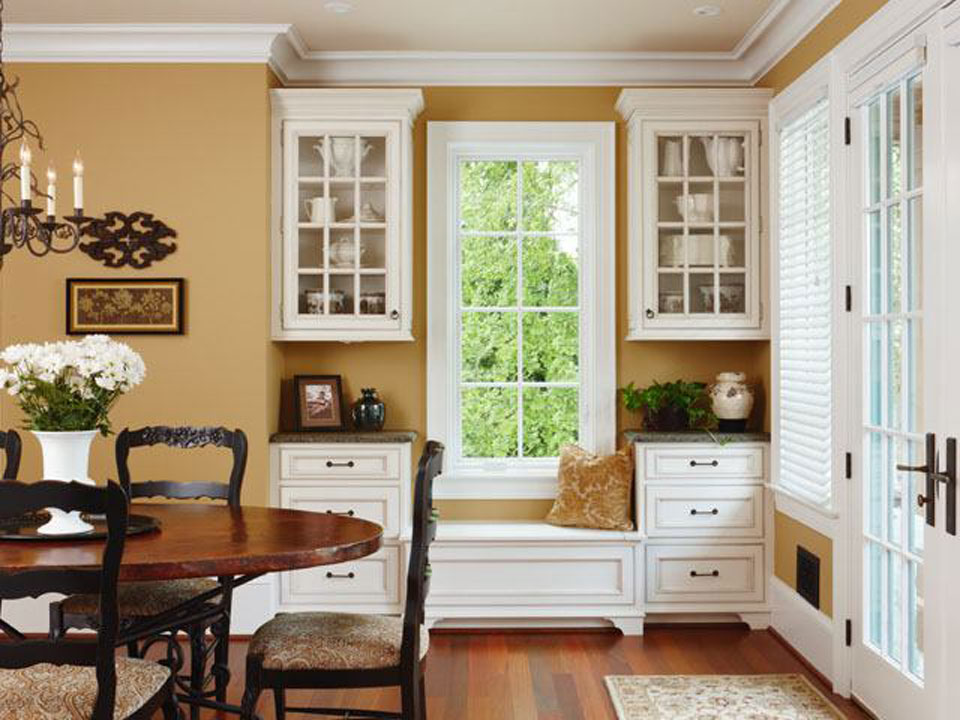 Built-ins Create a Cohesive Look Throughout Your Home
Custom, built-in cabinets and shelves aren't just for the kitchen anymore—imagine how fabulously functional they could be in every room to help you maximize space and exude luxury. Below are several examples of how built-ins can be combined and coordinated with the décor in your home, tailored to suit your needs exactly:
A Splendid Living Room
Organize and beautify one of your family's most used rooms with custom, built-in shelving, and cabinets to store, display and conceal a flat screen television, DVDs, board games, books, artwork, photographs or keepsakes.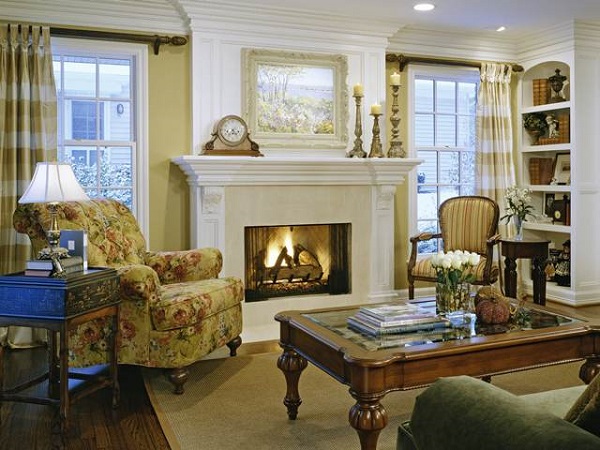 An Organized Home Office
Make your home office more pleasant and efficient with custom, built-in cabinets and shelves—one that functions as a study nook for kids (where books, papers, and school supplies can be hidden out of sight when they are not in use); or a home office for you (organize and hide bills, paperwork, your computer, printer and other office supplies). Consider built-ins around the doorway to store items that you use every day.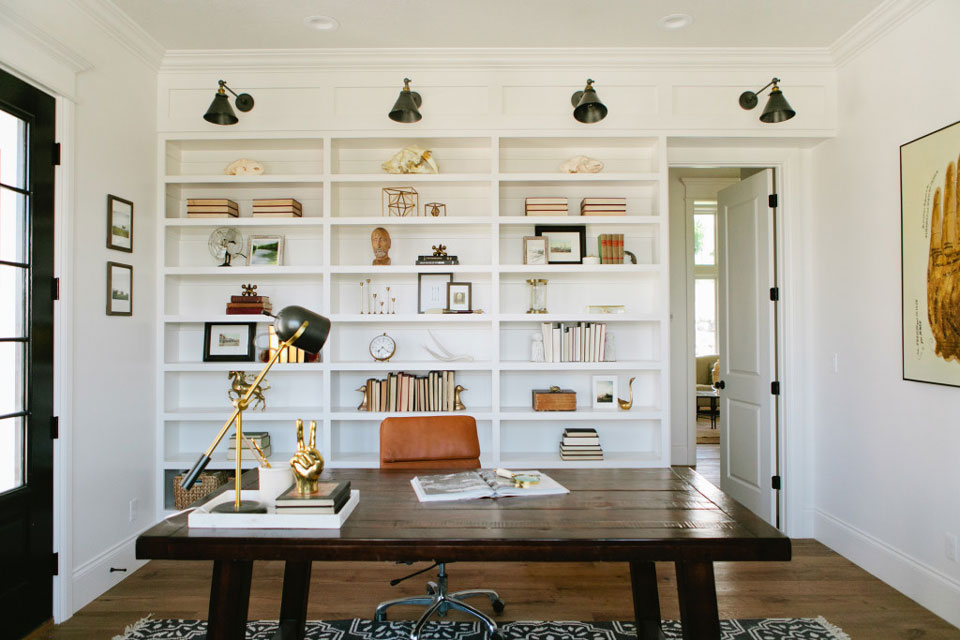 Photo Courtesy of House of Jade Interiors
A Luxurious Bedroom
Why not hide that TV in the bedroom with a built-in entertainment center, to include folding or sliding doors and custom nooks to hide all the electronic components? How about built-in bookshelves around the bed to keep all of your nightly reading material organized and close at hand? No more piles of books on the nightstand.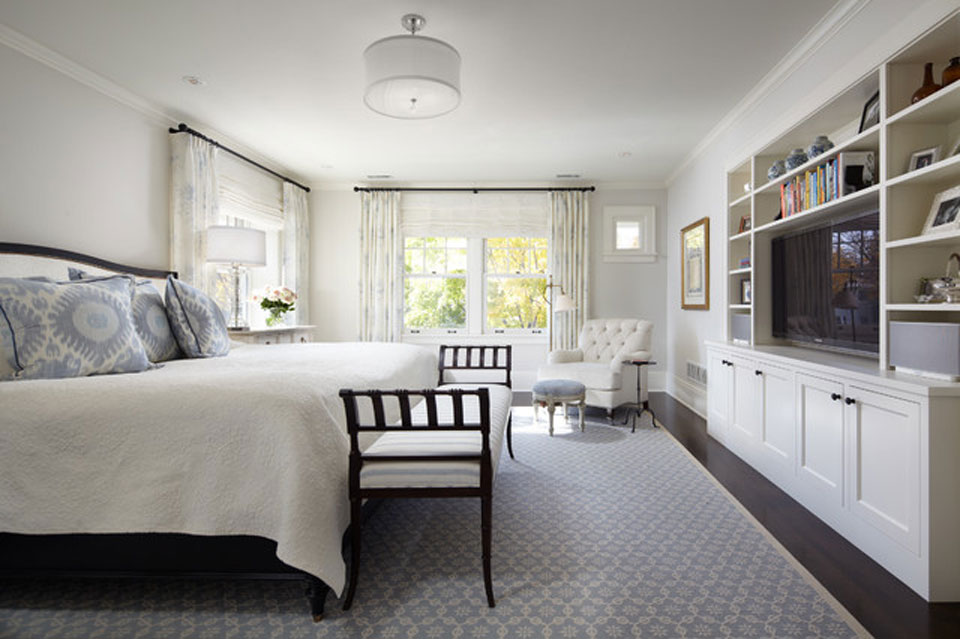 Photo Courtesy of Streeter & Associates
New, Functional Closet Space
Custom built-in cabinets and shelves in the closet are a happy thought indeed, storing clothing, shoes and other personal items. You can even use custom built-in cabinets and shelves to replace traditional dressers, saving valuable floor space.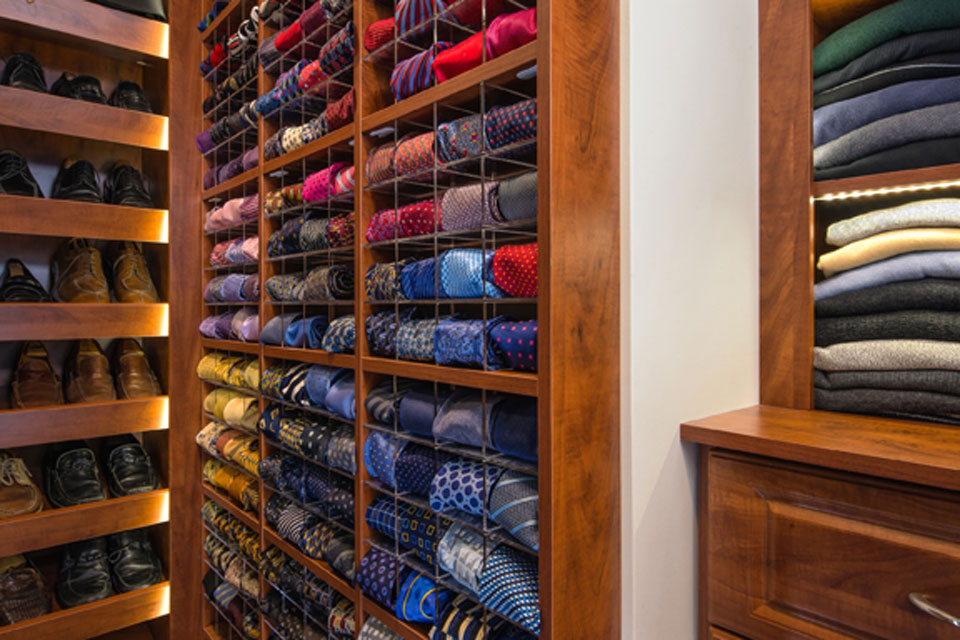 A Spa-Like Bathroom Retreat
Built-ins blend beautifully with master and guest bathrooms providing not only much-needed storage space (for towels and personal items), but also creating a look of sophistication and elegance. Display your favorite candles, soaps and other spa-like collectibles to create an ideal getaway—an oasis right in your own home.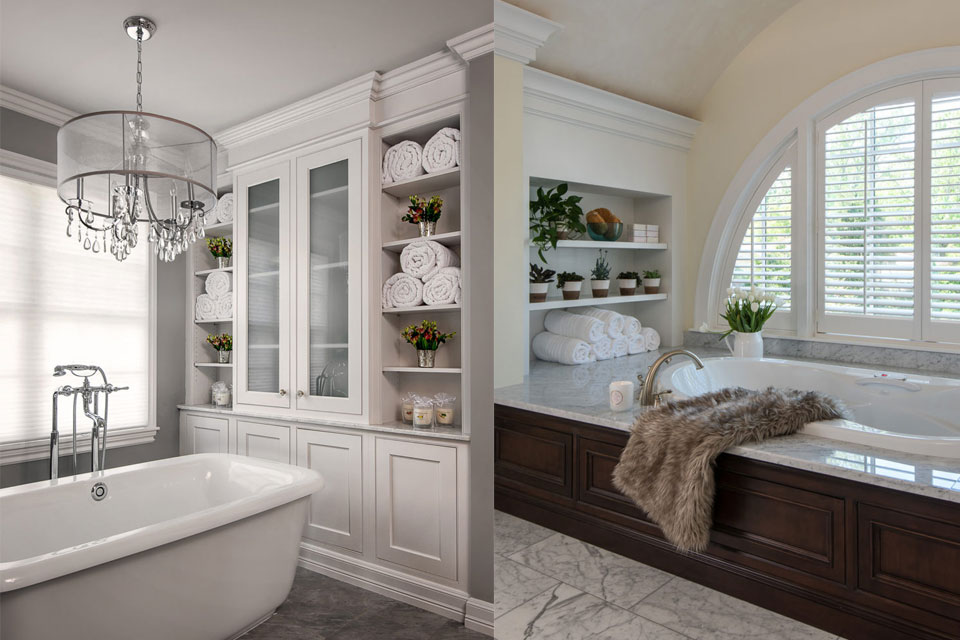 Tidy Mudrooms
Custom shelves and cabinets also make the most of the wall space in your mudroom. This catch-all area can easily get cluttered. But, built-in nooks, hooks, and cabinets can stow all of your backpacks, coats, scarves, gloves, umbrellas, keys and anything else you need to grab on the way out the door.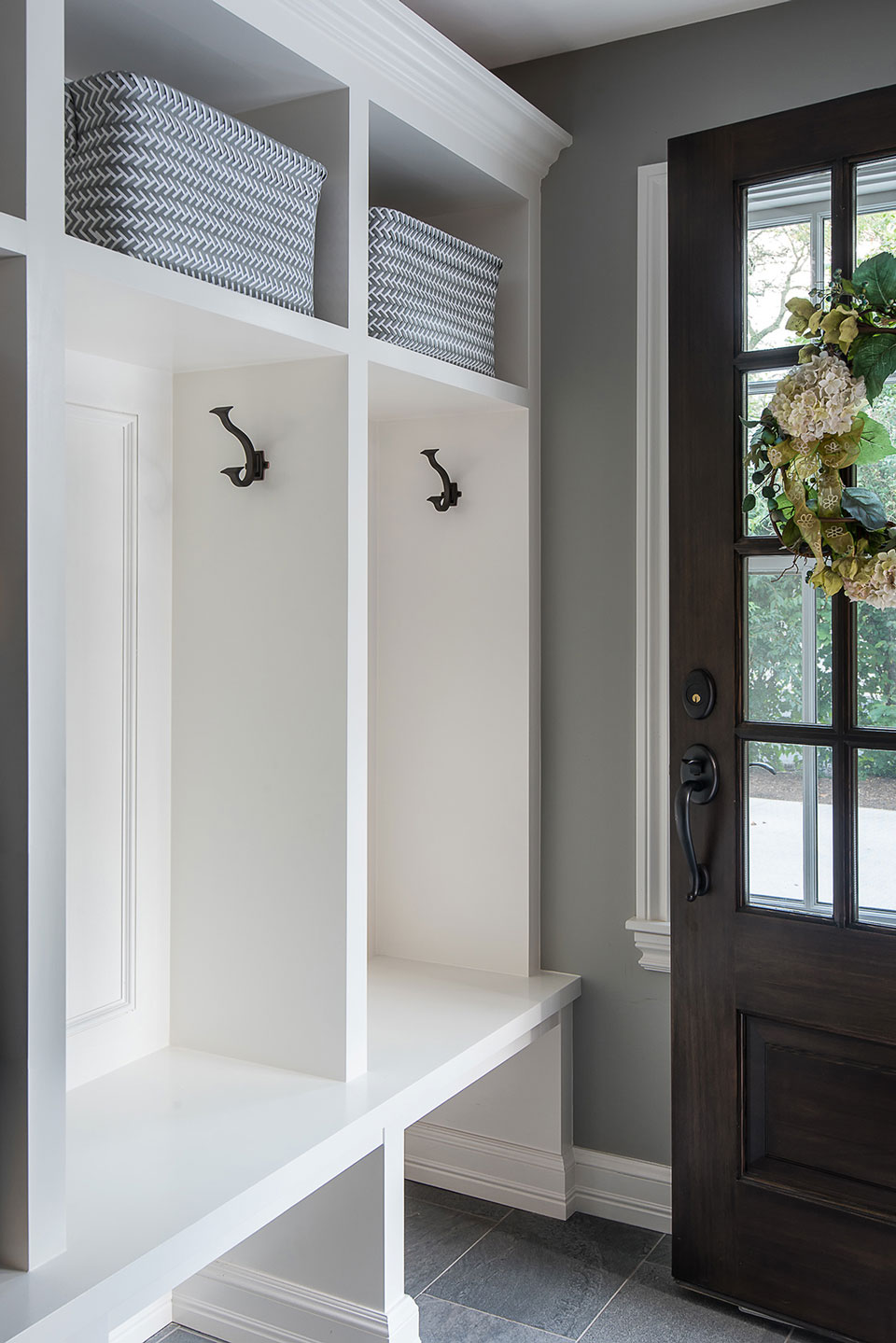 A custom cabinet can double as bench storage where your family can remove their shoes so they don't track mud and dirt into your home. Add individual built-in shelves can be designed to stow shoes and boots off the floor, as well as to prevent people from tripping on them.
Well-Appointed Laundry Rooms
A well-appointed laundry room can also include built-in shelves and cabinets to hide your ironing board or hang clothes to dry. Create custom space for folding laundry and store detergents and other chemicals safely out of sight. Keep piles of laundry off the floor by using "colors vs. whites" pull out dirty clothes cabinets.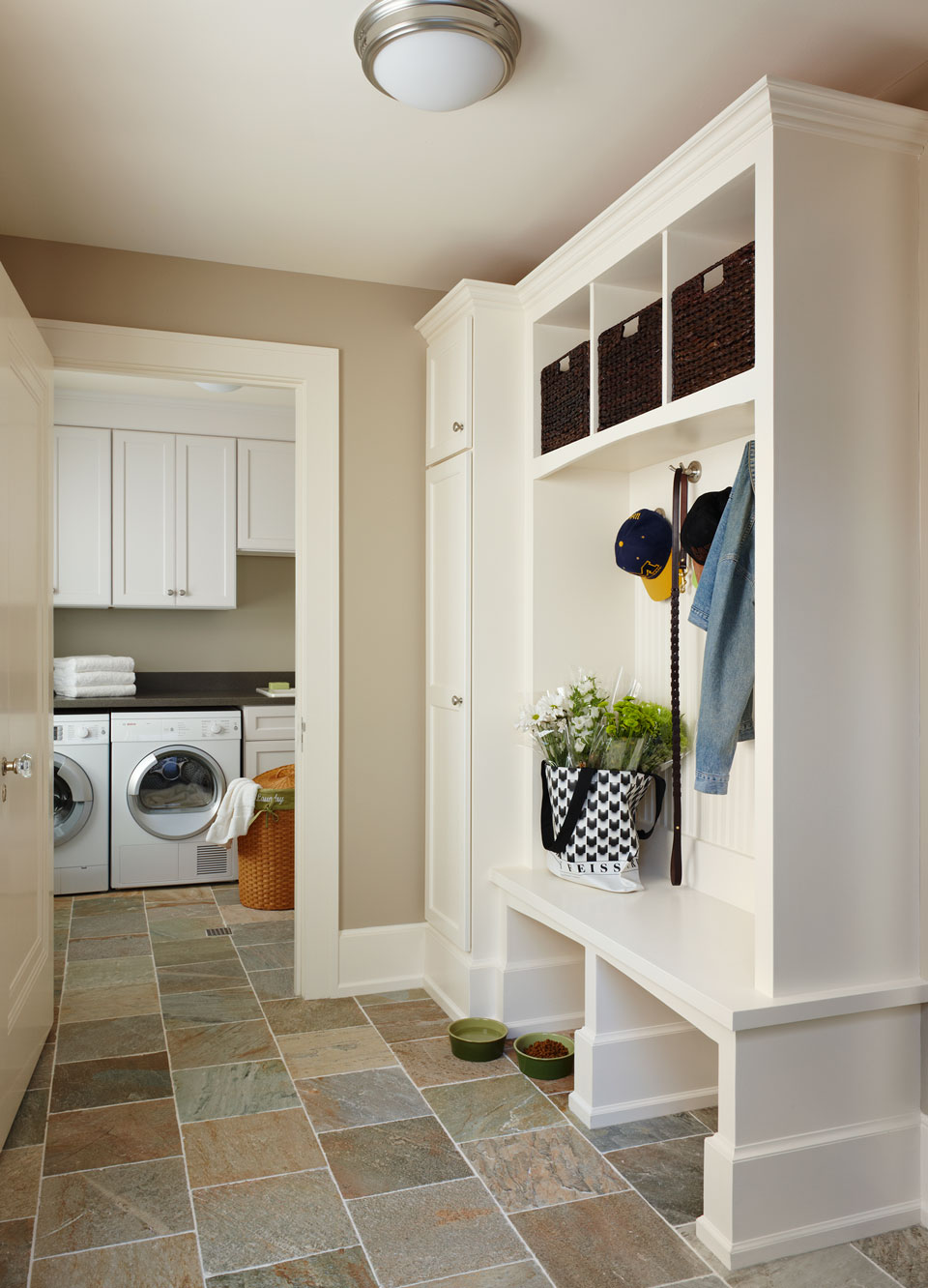 With Custom, Built-in Cabinets and Shelves, the Sky is the Limit
If you're building a home or considering a remodel, seriously consider how well an organized, luxurious and convenient custom, built-in cabinet or shelf can impact every room in your home. One of MainStreet Design Build's specialties is helping homeowners bring these dreams to reality for exceptional functionality, luxury, and visual interest.
One of our clients in Orchard Lake is an avid reader, so she wanted a library with bookshelves built just off of her living room. Her gorgeous home has equally gorgeous surroundings on lakefront property, with pristine views of the lake. So, we designed a beautiful sunroom with lots of windows to let in natural light and scenery, including built-in bookcases right in the window seat, and in the non-window, load-bearing wall. This maximized her book storage while also maximizing her view of the lake.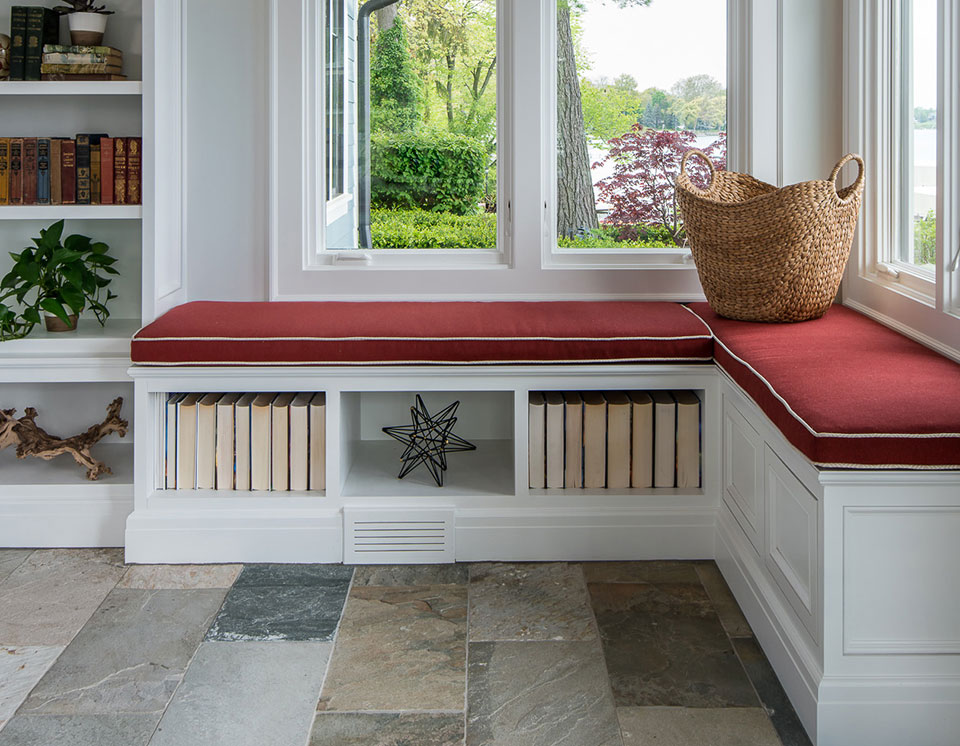 This video shows another special project we did locally where our built-ins were designed to unlock a hidden storage room. The homeowners wanted this project incorporated into a new basement remodel. Challenged with hiding a 2-step concrete block behind the bookcase, we had to re-engineer how a normal hidden bookcase would be designed. Instead of building it to swing inward, we had to design the bookcase to swing outward. Although not ideal (says the artisans and perfectionists behind the MainStreet project), this solution worked beautifully for the client and provided her with the hidden bookcase she wanted.
To unlock the hidden potential of all the rooms in your home, call MainStreet Design Build at 248.644.6330 for unparalleled professionalism and superior craftsmanship in your home remodeling needs.
Also, visit our design gallery for further design inspiration. Then, schedule an in-home consultation so we can start designing the home of your dreams!