If you're like millions of other Americans, you're dreaming of a new kitchen. And, with that beautiful new kitchen, it's important to think about ventilation. Admittedly, the actual process of ventilation is rather boring — something usually best left to the experts — but selecting a range hood style for your kitchen can be both fun and exciting. These days, there are so many options for range hoods that you're bound to find one to fit your taste, whether you're a traditionalist, minimalist, or somewhere in between. Here are a few ideas to get you started.
Compared to the kitchens of the recent past, today's designs tend to forgo the intricate carved mouldings and turnings in favor of clean, straight lines. While most kitchen remodeling designs tip their hats to the overall style of the home, many designers and homeowners alike are looking for a linear, sleek fit and finish. Professional appliances, cabinetry with crisp, wide styles and rails, along with chunky, square-edged countertops create an updated urban look. Adding to this, the 48" professional hood, paired with the Wolf Pro Range, completes the design.
A more whimsical kitchen design, like this one with painted grey cabinetry and mid-priced appliances, fits perfectly with a stainless steel chimney hood. When adding detailed features such as the glass and stone vibrant backsplash featured here, this simply styled range hood sits quietly as the central point of the kitchen.
Cabinetry can take your kitchen range hood to a whole different level, giving the hood the feel of furniture in a seamless design. This featured mantle hood maintains the clean lines inherent in today's kitchens, while also embracing a transitional feel. Depending on the styling, this type of hood can flatter anything from cottage charm to structured traditional. The key to making this hood look great in any kitchen is ensuring that the height and width are proportional while adding just the right moulding to set if off.
Home may just be where the hearth is. For a more traditional style, consider the wooden hearth hood. This kitchen range hood has evolved into a cleaner design over the last decade, employing a wainscot style and losing the carved corbels that have become reminiscent of the early 2000's. The hearth range hood is a major focal point for a kitchen. Your design professional should always ensure you have the room for this type of hood. With an appropriate ceiling height and the room size to accommodate a beautiful hearth hood, it will become the highlight of your design.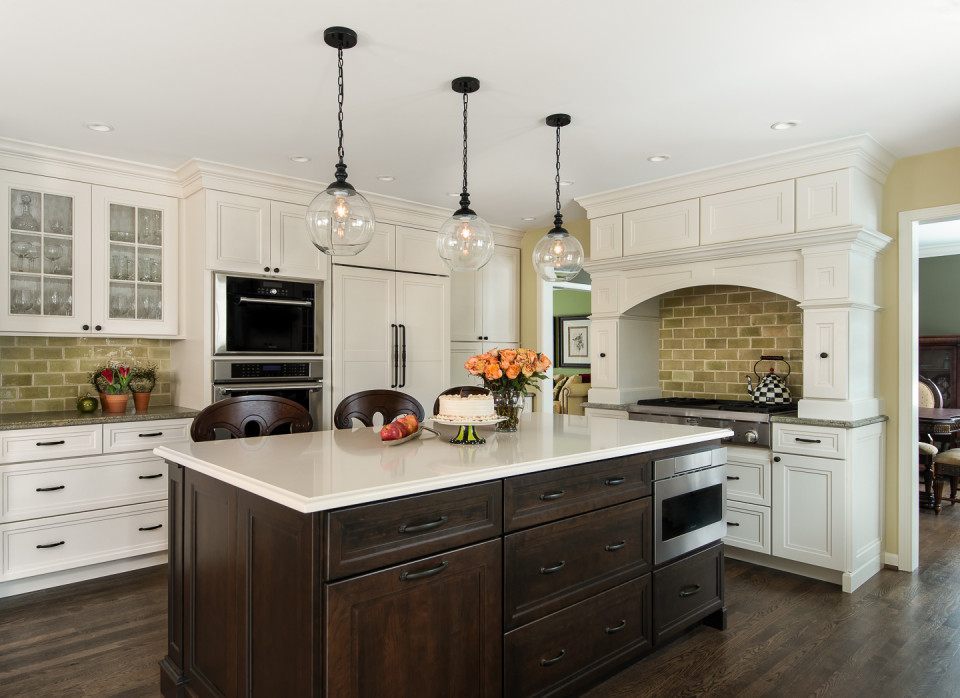 While the options are virtually endless, your choice of kitchen range hood is integral to your final kitchen design. Take the time to get to know what range hoods you love while considering the design that works with your kitchen size, style, and setting. If you're struggling to find the perfect fit, don't be afraid to go custom either. Your design professional can walk you through a plethora of custom options — from metal and stone, to flush, ceiling-mounted options that completely open up the space. But whatever you choose, remember that each kitchen range hood will have its own installation requirements, so it is always prudent to work with your design professional to ensure you get the perfect one for your new kitchen.
Are you ready to begin your next kitchen remodel? Contact MainStreet Design Build to schedule a consultation, and we can explore your ideas together!