2022 holidays are a wrap! Here are 6 ideas for getting your home holiday-ready in 2023
The winter holidays bring family and friends together like no other time during the year. The festivities are joyful, with dozens if not hundreds of people potentially visiting from out of town, from Thanksgiving to New Year's Eve. These numerous get-togethers are full of non-stop eating, drinking, and celebrating in your highly-trafficked kitchen and living room, guest bedrooms, bathrooms, and down into your lower-level living space.
Now that we're fresh into 2023 and the smoke has cleared, it's time to reflect on what worked and what didn't at your many holiday parties. Being able to entertain crowds of various sizes is wonderful, but only if you and your guests have enough room to move, relax, and socialize. Identifying challenges with your living spaces in terms of size and utility can suggest remodeling opportunities to make the next holiday season even more enjoyable. To start, ask yourself:
Does your home have enough space for people to comfortably congregate and move within the usual high-density areas, such as your kitchen, living room, and bathrooms?
Does your home have enough storage space to accommodate everything you need during these high volume get-togethers, and is that space in the most efficient locations?
Does foot traffic throughout your home flow freely from room to room, or is it bottlenecked in hallways and other tight spaces between popular rooms?
Does the arrangement of your home's appliances and furniture make it easy or difficult for people to get what they need, and get to where they need to go?
Does your lower level or basement take full advantage of all its surface area and other features to help make your other rooms less crowded and more efficient?
Does your home have comfortable living arrangements for visiting family and friends, or do you have to convert a child's bedroom, or need to make guests sleep on your living room sofa?
If you're like most Birmingham homeowners, you've discovered numerous opportunities for home improvement by answering these questions. Partnering with a proven and trustworthy local design-build remodeling company to solve these space, storage, and layout problems can work wonders for next year's holiday events, greatly improve you and your family's year-long quality of life, and significantly boost the overall value of your home. Let's find out how:
Holiday-Proof Priority #1:
Improve Workflow in Your Kitchen
Your kitchen is not only the nexus of your family's at-home activity throughout the year, but the busiest and most crowded room during any holiday get-together or party. The best kitchens are designed for optimal utility and convenience, with a special focus on making the overall workflow as seamless and smooth as possible. Remodeling recommendations therefore center around making the best use of your existing space, and prioritizing frequently used resources.
Specific improvement ideas vary based on your unique needs, but a few common best practices include: incorporating an island or two to direct traffic away from the work areas; designating distinct work zones for particular cooking and cleaning functions; choosing "smart" and multitasking appliances to heighten efficiency and save space; placing frequently used items like silverware drawers and garbage bins in accessible areas; and keeping the fridge out of the way.
Holiday-Proof Priority #2:
Add Storage Space in Your Kitchen
Optimizing workflow in your kitchen is vital, but equally important is having sufficient storage space to accommodate your busy family throughout the year, and crowds of guests throughout the holiday season. Custom cabinetry drawers are a scalable, beautiful, and eminently functional way to add as much storage space to your kitchen as you will likely ever need. They perform various specialized functions, and can go in many locations throughout your kitchen.
Cabinet drawers contain spice racks to garbage bins, and come in a range from under-sink to toe-kick, shallow rollout, and custom-designed pull-outs. Pantries can add significant storage spaces that are completely out of the way with cabinet, reach-in, and walk-in varieties. Specialty cabinets and drawers also offer a highly efficient and creative use of storage space, and can perform diverse functions ranging from pet care to home beverage and tech charging stations.
Holiday-Proof Priority #3:
Add Seating in Your Kitchen
Running out of seats is the perennial kitchen challenge, especially with large families. The problem is compounded during the holidays, when party crowds gravitate toward the kitchen, especially when food and drinks are being served. An experienced remodeler can help you optimize your kitchen layout to maximize scalable seating arrangements. The first step is to effectively utilize all the available surfaces by creating a practical and flexible layout.
Kitchen islands in their various forms are multi-purpose, not only improving workflow and adding storage space, but capable of providing additional place settings for seated snacking or full dining. Long bench and dining chair seating can accommodate a large number of guests within a relatively small space, while banquette and booth arrangements can compartmentalize your kitchen layout and provide a surprising number of new seats within an existing space.
Holiday-Proof Priority #4:
Expand or Add Additional Bathrooms
The spaces in your home that's arguably even more important than your kitchen is your bathrooms. Even under normal circumstances throughout the year your family members push your single-occupancy bathrooms to their limit, an ongoing challenge that's significantly increased during holiday parties when we've all seen inconvenient and embarrassing lines form outside their closed doors. Luckily, experienced remodelers know how to improve the situation.
An effective approach is to increase the footprint of your bathrooms by borrowing square footage from under-utilized nearby spaces, such as a closet or hallway. Walls will have to come down, and often electrical and plumbing infrastructure redirected, so work closely with proven experts. Existing bathroom layouts can also be rearranged for improved efficiency, while the boldest and most elaborate approach adds entirely new bathrooms through a home addition.
Holiday-Proof Priority #5:
Improve Flow Through Hallways and Doorways
Your crowded kitchen and bathrooms were likely only part of the problem during holiday soirees thanks to bottlenecks caused by tight hallways and narrow doorways. The good news is a trusted home renovator experienced in the principles of "universal design" (UD) can make improvements to lessen the holiday and continuous year-long strain. Originally conceived to optimize living arrangements for seniors, these principles are now applied to help all ages.
A universal design best practice is the installation of wider doorways throughout your home (often used to accommodate wheelchairs and walkers but here ideal for high volume traffic), specifically expanding them from the standard 28 inches to 32. Another UD technique that's great for improved traffic flow in hallways is leveling floor height (often used to prevent accidents), and wherever possible widening hallways, rounding corners, and smoothing walls.
Holiday-Proof Priority #6:
Maximize Your Basement/Lower Level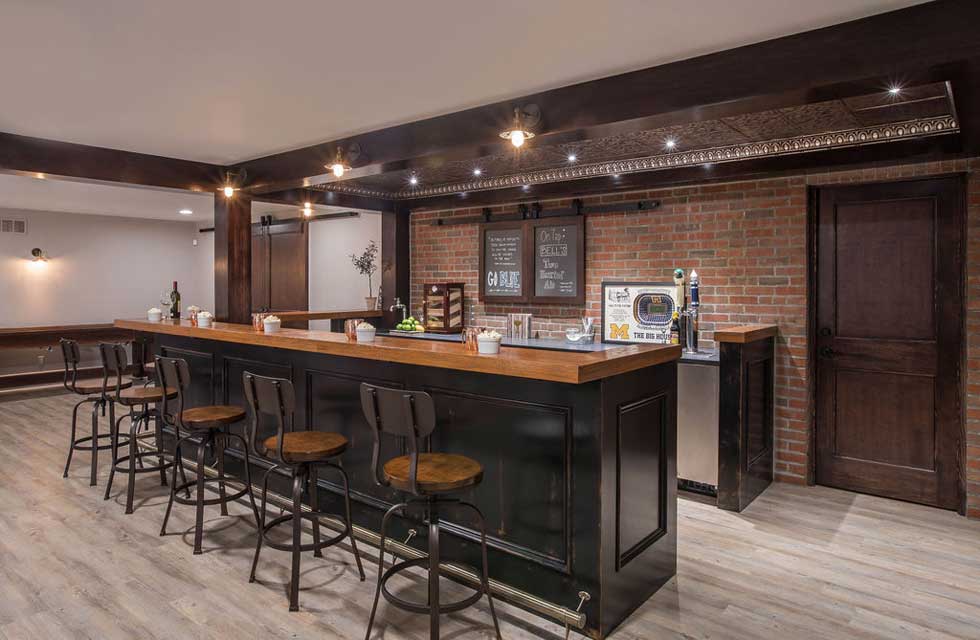 An obvious way to better handle holiday crowds is by offering them additional square footage to celebrate within. The good news is that many Birmingham homes have unfinished or semi-finished basements or lower level floors ripe for renovation, maybe one in your own home. If so, this valuable surface area holds tremendous potential for adding functional living space to your home, including anything from a designated entertainment room to an extra bedroom and bathroom for guests.
Depending on your choice of customization, you'll need to partner closely with your remodeling firm to ensure the proper engineering conditions are met, and electrical and plumbing infrastructure made available. Many Birmingham residents have added bathrooms, wet bars, home offices, game rooms, and if space allows various combinations of these to their lower level spaces. Regardless of type, the extra space and features work wonders for large family or group gatherings.
Bonus Holiday-Proof Priority:
Partner with a Proven Design Build Firm
MainStreet Design Build is a full service, design-build remodeling firm dedicated to creating a luxurious end-to-end experience through personal care, accountability, timeless design, and exacting attention to detail. Voted the #1 remodeler in Detroit and #2 general contractor in all of Michigan, for over 30 years their in-house design team, staff of carpenters, and deep bench of skilled tradespeople have made the renovation process comfortable, enjoyable, and safe.
Having produced elegant results that transform remodeling dreams into stunning and functional living spaces, MainStreet Design Build is favored by discerning homeowners in Southeast Oakland County who value a high level of comfort and trust in knowing that their home remodeling project will be done RIGHT. Browse our luxurious gallery of award-winning local renovations, and quickly schedule a complimentary design consultation. Let's partner today!