While updating your kitchen can be as simple as choosing new appliances and adding a fresh new wall color, today's best kitchens reflect a family's individuality and are as attractive as they are functional.

Because life has become not only busier but also more casual, a modern kitchen is much more than simply a cooking space. A modern kitchen remodel is a perfect way to accommodate guests as well as family by creating a space that is the "heart of the home" and its entertainment hub. With modern materials and energy-saving appliances, today's kitchens are stylish and efficient, often designed to be used by more than one cook at the same time.

Whether you want to open your kitchen to a living space, incorporate a casual dining area, add a teen homework station, accommodate more than one cook, or introduce high-tech appliances, there are myriad directions you can take.
1. Think About Style
Although the style and decor of a kitchen should be compatible with the architecture of the home, there is no reason your kitchen must conform precisely to the design of the rest of the house. The trend is toward a more contemporary look even for kitchens in period-style homes. If you love the idea of a cottage kitchen or Mediterranean colors and decor, plan to incorporate features, colors, and materials that will express your vision. If you desire an open floor plan, simply coordinate the look with adjacent rooms.
2. Plan for Your Kitchen Remodel
Updating a kitchen is one of the best ways to add value to an older home. A significant kitchen remodel requires detailed planning. Designers with specific training and credentials are best suited to aid in this process. A Certified Kitchen Designer (CKD) has many years of training and experience to help to ensure success.

While function and convenience are always vital to the success of any kitchen remodel, style and budget are equally important. Fulfilling the three basic needs — storage, food preparation and clean up — may seem easy, but can also require a lot of decision-making. When you work with a firm like MainStreet Design Build, you have the advantage of our experience and expertise both in design and space planning. In addition, we have developed a three-phase kitchen remodeling approach to assure that your project moves successfully from conception through completion.

Here are some suggestions:
3. Define Your Wants and Needs
Prepare a Must Have List: Include the things that are important to you – for example, do you need double ovens, abundant storage, easy-care flooring, seamless countertops, a larger refrigerator, walk-in pantry, better lighting and anything else you consider non-negotiable?

Start a Wish List: Jot down anything you would like to have in your new kitchen — a pot-filler faucet near the range, a warming drawer, an island with seating, under-counter refrigerator drawers, dramatic pendant lighting, a remote bar or vegetable sink, even two dishwashers or a pet-feeding station might fit the bill.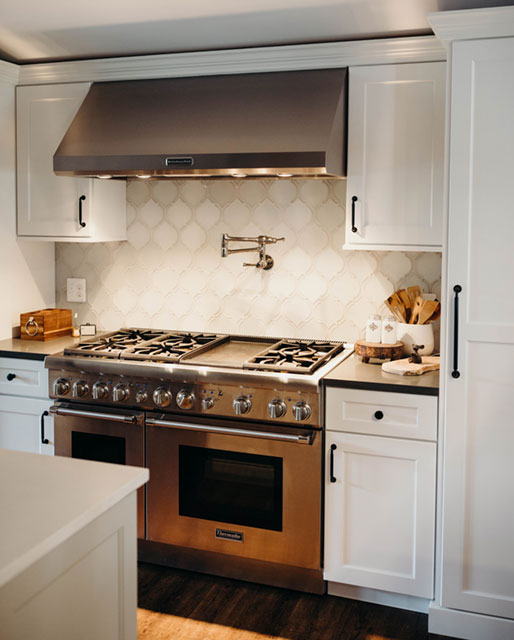 4. Gather Your Ideas
It is difficult to plan a kitchen redo unless you have a kind of "road map" to point you in the right direction. Approach it logically:

Start a notebook: Collect photos and magazine articles of kitchens you love. Browse online sites like Houzz or Pinterest and tag the ideas that you love; maintain a virtual idea book. Visit appliance and furniture showrooms, or even model homes, to study room vignettes and catalog what you find appealing.

Technology? Yes or No: Investigate new technologies like smart appliances and home hubs that can make life easier for the entire family. Know that some modern appliances and new technology may require updates to existing framing, as well as to plumbing and electrical service. There are even options for appliances that communicate with one another or with you through mobile apps.

Sustainability and Energy-Savings: Modern kitchens should be efficient and eco-friendly as well as stunning. Modern technology has also brought us greater energy-efficiency, enhanced water-conserving faucets and dishwashers, innovative LED lighting options, and cost-effective, low-maintenance modern materials.
5. Pulling It All Together
Once you have a basic idea in mind, coordinating the details becomes both the hard part and the fun part of a modern kitchen remodel. Our design staff will work with you during the initial stage to assure that the plan reflects your personality and your preferences, and help to develop a realistic budget.

During construction, we maintain open lines of communication to assure that the work proceeds according to plan, and we work diligently to complete the work on time and within budget.

Take a look at some of the great kitchens we have helped to create.

At MainStreet Design Build, we believe that every kitchen can be beautiful, efficiently organized, outfitted with time and energy-saving appliances and easy-care, sustainable materials, and designed to fit the lifestyle of the family that will use it on a daily basis. It takes planning to accomplish that, but planning for a kitchen remodel is one of our specialties.

When you're ready to embark on your new modern kitchen remodel, give us a call at 248-644-6330 or complete the online form. We are excited to hear from you and can't wait to help you achieve the kitchen of your dreams!