As the Boston Globe reported, "The mudroom is the new foyer," one senior architect recently quipped. Today's mudroom can be a truly functional space—a place to store things you need in easy reach, but still out of the way of the main living space.
The mudroom serves a dual purpose. First, it must be built for abuse. After all, it's the repository for all that's messy and outdoorsy—soggy shoes, umbrellas, boots, mud-caked croquet sets, etc. At the same time, though, it's also an entranceway to the residence. As such, it should ideally be tidy, stylish and in sync with your home's aesthetic. How can you make sure that this little-room-that-could serves your family's needs?
Answer these 10 questions to create your ideal mudroom!
How Much Foot Traffic Do You Expect?
Consider the following:
Who will come through the mudroom, and how often?
Will your kids (or grandchildren) pass through it regularly? What about your friends, children's friends or pets?
Do you plan to entertain guests regularly (e.g., parties, family gatherings, special events)?
The answers will inform your ideal design—for example, how large the room needs to be, how many closets, what kind of flooring you need, etc. Generally speaking, the more foot traffic, the more wear-and-tear you can expect, and the more likely you'll want to choose durable flooring and trim that is easy to keep clean. On the other hand, if you'll be doing a lot of entertaining, then you might want an "elegant cloakroom" feel, instead.
Start Planning Your Mudroom Today!
What Needs to be Stored in the Mudroom?
List items you plan to store and access. For example, will you hang coats and hats in the mudroom or store the children's school backpacks? What about family sports equipment? From soccer balls to lacrosse sticks, wet swimsuits to beach towels, a mudroom is a great place to store any gear that really can get soaked. Do your activities require supplies, such as crafting? Do you need a place to stash holiday decorations? Perhaps you'd love a place to stow luggage near the laundry, to make unpacking a breeze. Consider all of your storage needs, and write them down.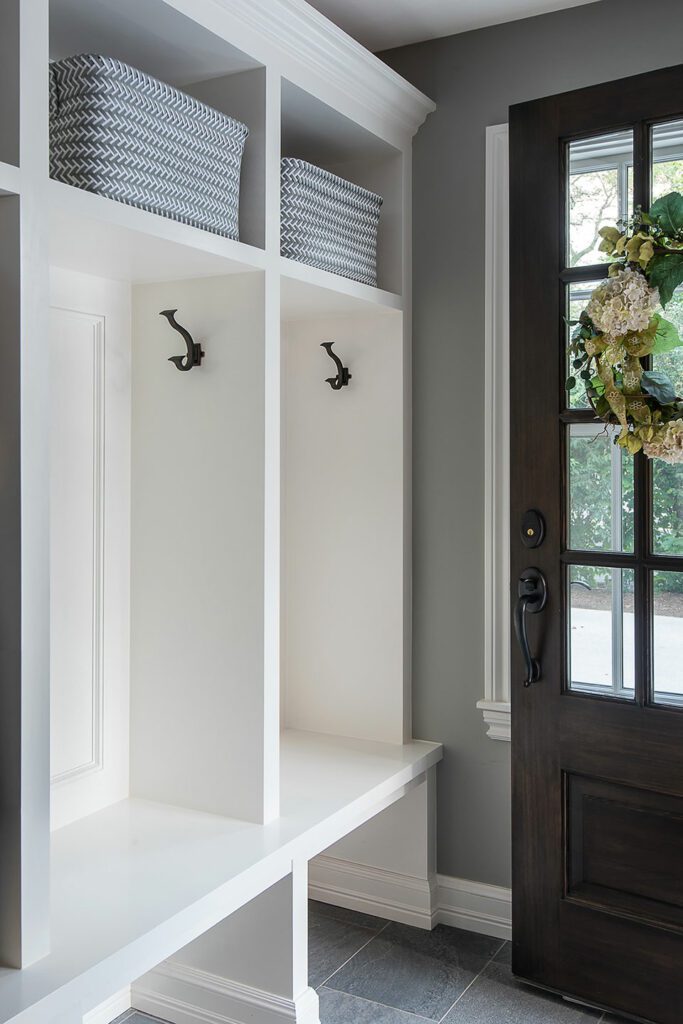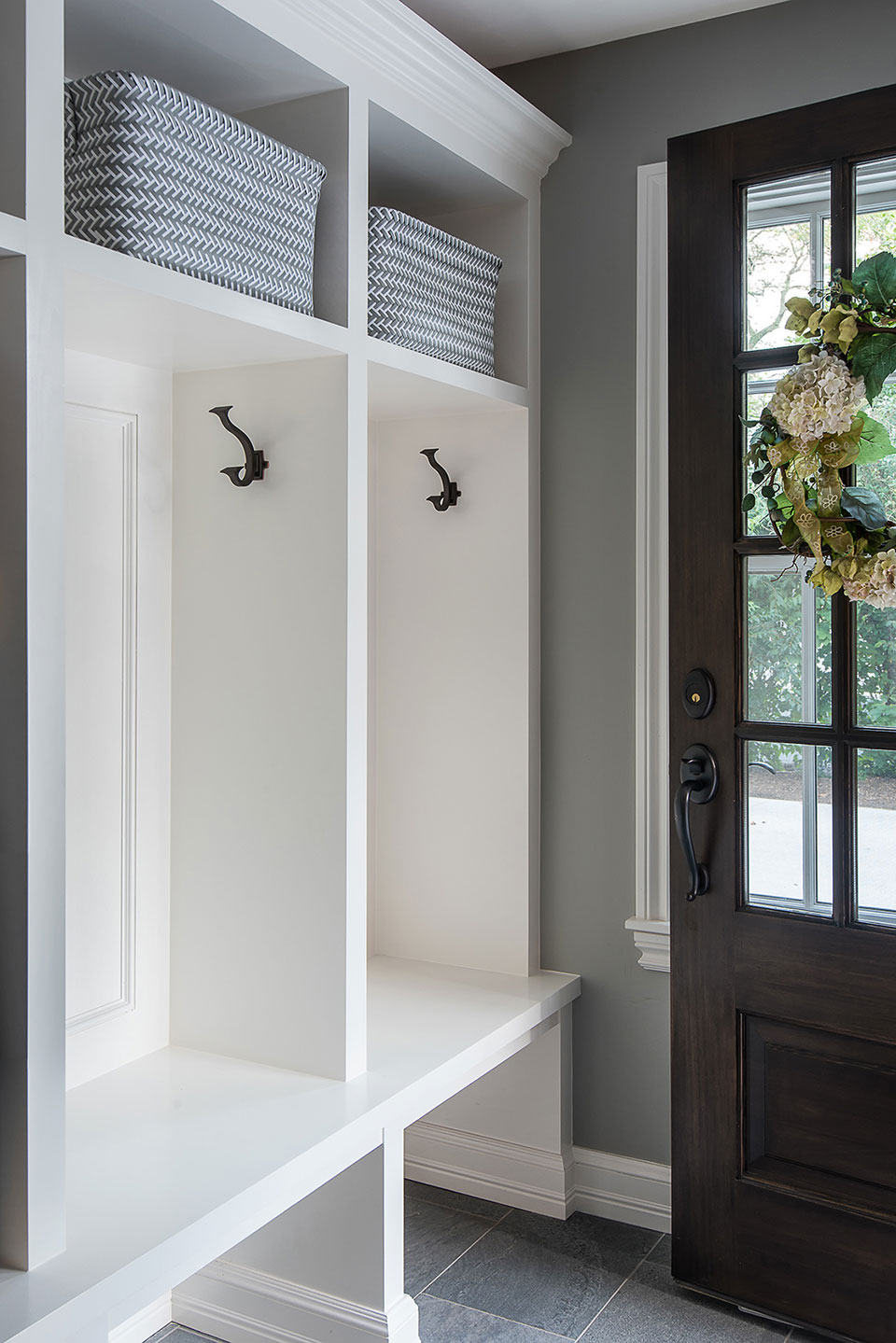 Open or Closed Storage?
Do you prefer the convenience of grabbing coats off a set of hooks, or would you rather have closet space that conceals your garments? Do you prefer open baskets or closed drawers? Is it important for things to be easily accessible or stored away? With open storage, you'll also have more flexibility to change the space as time goes by. On the other hand, with closed cabinetry, your mudroom may look more orderly—especially when those announced, or unannounced guests stop by.
What about Tech Devices?
Some families use mudrooms as an area to store tech devices—not just spare batteries and headphones. Add a charging station for everyone's smartphones, tablets, and wearables. Install the home's wireless router, and put in a shared printer, so the kids no longer have to come into your home office whenever they print a page. However, if you choose this version of a mudroom, be mindful of security and temperature control—since most mudrooms can be accessed by an exterior door.
What's Your Aesthetic Ideal?
Is the space purely some place to pass through and store items on the way to the rest of the house? The choice is yours: Do you put more emphasis on the "mud" or "the room"? If it's "mud," you might want a more utilitarian feel—which is likely to be more functional, easy to clean, and economical. On the other hand, if you place more emphasis on the "room," you would want to match it to the rest of your home's architecture and décor. If so, you might want a more furnished space, with bench seats, cubbies, and more. One option is to base the design of your mudroom on a variation of your kitchen—another room that is all about functional design.

How Will This Space Accommodate Your Children?
Some people like their mudroom to double as a dropping point for school supplies and activities—for example, science projects, homework or even homeschooling. If an "activity center" suits your needs, will you hang a corkboard or dry-erase board on the walls? Will you need cabinets and shelving to organize books and school supplies? Will you need a file cabinet or drawer to save report cards, school work or art projects?
Does This Space Need to Accommodate Your Pets?
Do you plan to use the mudroom as a care zone for your pets? Of course, dogs get muddy too! If you have pets to accommodate, the mudroom is an excellent location for a pet shower tub, sink, built-in kennel, interior gate, and even a dog or cat door. Plan spaces for pet food (in bulk). Consider transforming a cabinet into a rolling food station, or add a food and water bowl drawer. Plan a canine cupboard that includes storage for kitty litter, brushes, leashes, etc.
What Other Functions Should Your Mudroom Serve?
Will you need desk or counter space for your children to do homework? For some families, the mudroom serves as an ideal spot to create functional workspace, like paying bills or doing schoolwork. The mudroom can also double as a laundry area. If you're planning for the latter, be sure to include washer/dryer hookups, a counter space for folding clothes, and a cabinet for laundry supplies.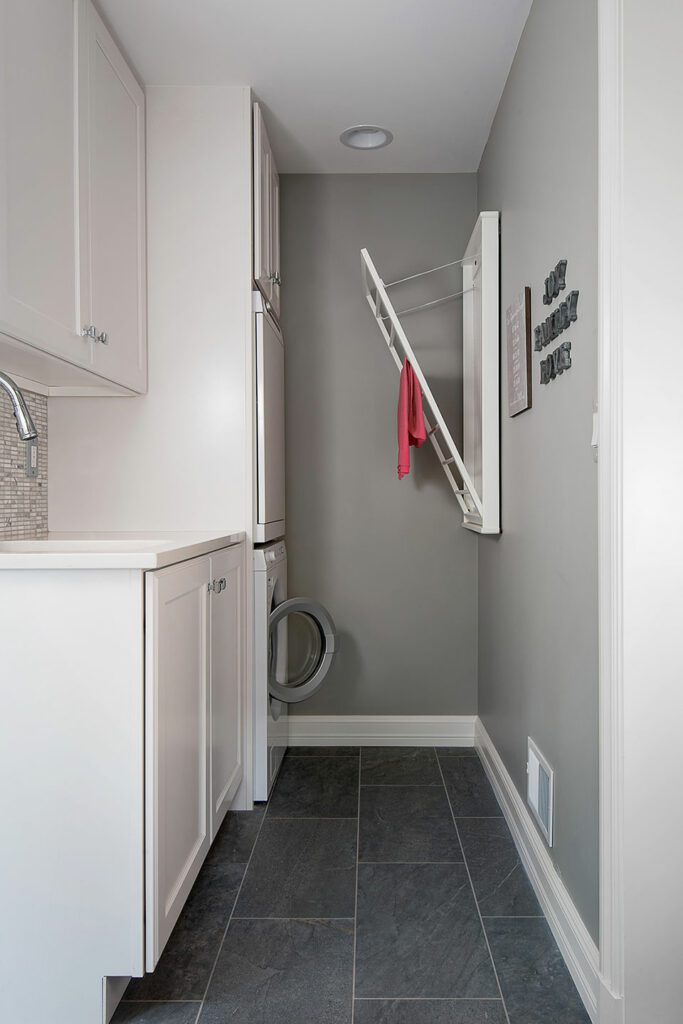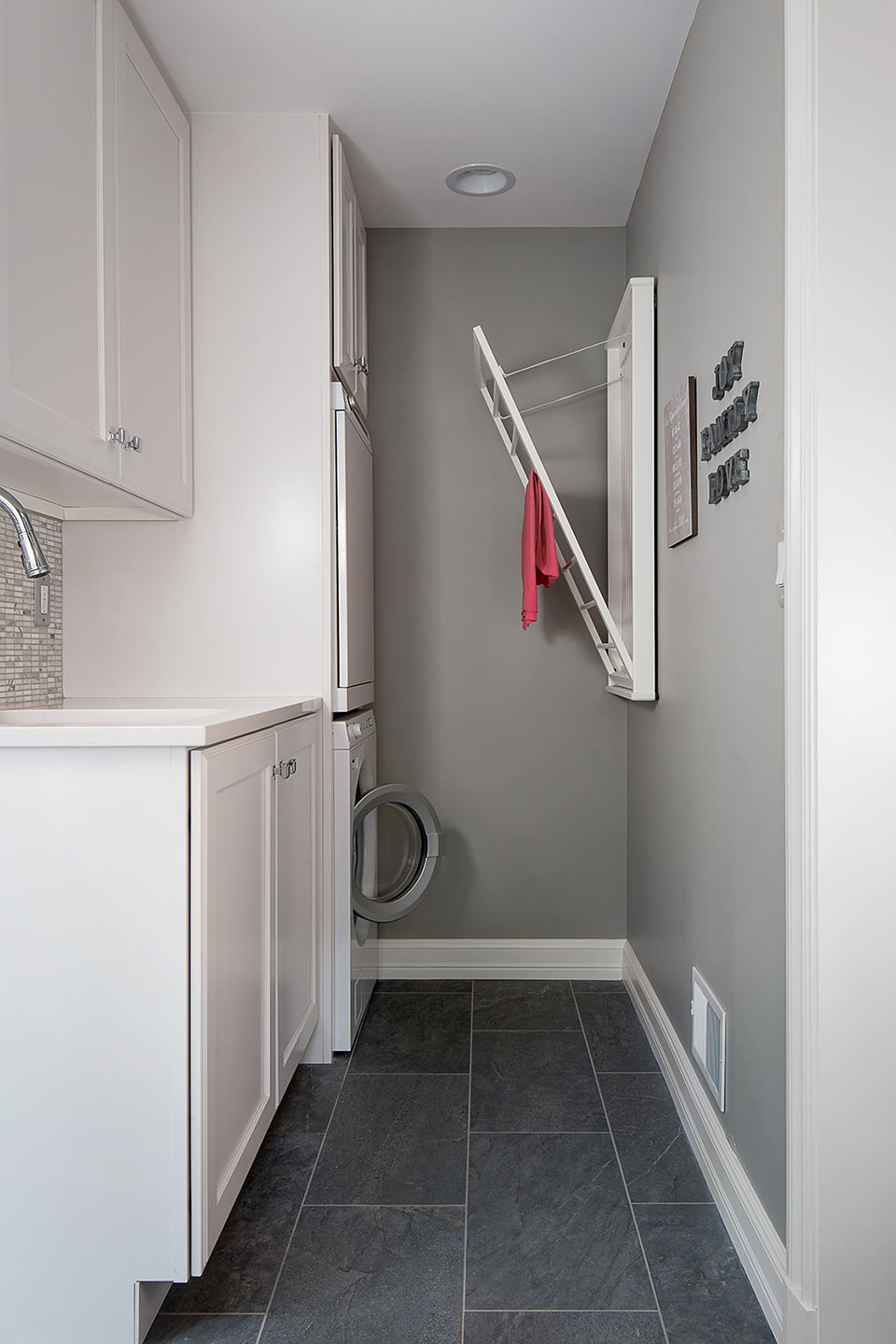 Smart Idea: A pullout ironing board can be hidden inside a cabinet; and if you want to handle family business in the mudroom, it could double as a hideaway desk.
What Building Materials Do You Want to Use?
Now that you've decided how to use your space, it's time to make choices about material selections. For instance, if you intend the room to accommodate light traffic and have an aesthetic that blends with the rest of the home, you might choose a durable hardwood that matches the other floors. If it's a high-traffic area, you might want to install stone or tile flooring for increased durability. Do you prefer painted finishes or wood finishes? Do you plan to install countertops? If so, will you choose granite, quartz, laminate or some other material?
How Will You Light the Space?
Finally, you'll want to consider lighting. Will existing windows and recessed lighting give you all the illumination you need? If you have shelving or cabinets, will you need task lighting for reading or writing; or accent lighting to illuminate pieces you want on display? Do you need help seeing, or do you want to create a relaxing environment using ambient lighting? There are no right or wrong answers. However, with so many lighting options available it can get a little confusing and overwhelming. Be sure to work with a professional, like MainStreet Design Build, who can help you effectively design a lighting scheme that works for your mudroom.
Sadly, many homes do not have mudrooms, despite how incredibly functional they can be. If you're ready to carve out a niche near your front door or add extra space near your back door, call our office today at (248) 644-6330 and put the MainStreet Design Build team to work!
Or, schedule a design consultation and ensure your mudroom project gets off to a great start.