You should never judge a book by its cover — but everyone judges your home by its exterior!
Much like their proud owners, even the best homes eventually age and require a makeover. Some exteriors need relatively minor tune-ups due to poor lighting or deferred maintenance challenges; still others demand more significant work caused by inevitable obsolescence, functional issues, a bad walkway, or overall lack of curb appeal.
But don't fret! You mustn't leave the home and neighborhood you love. Instead, stay where you are by contracting with your dedicated and talented experts at MainStreet Design Build, Birmingham MI. By combining our signature personal care with proven end-to-end design expertise we can do the seemingly impossible: luxuriously revitalize your exterior at an affordable price.
Whether by updating your existing exteriors, modifying features and updating, or doing an extreme architectural renovation, you can trust the deep bench at MainStreet to transform your home on time and on budget. Let's take a look at each solution, and get the conversation started around creatively and economically transforming your home into a place you'll want to stay for years.
Update Your Existing Exterior
When it comes to exterior makeovers & renovations you often don't need to reinvent the wheel — instead partner with the pros at MainStreet to replace easily removed products from roofing to siding to gutters, windows, and painting. You'd be amazed what simply swapping old materials with new can do to not only freshen up your exterior look but breathe new life into your entire home.
Critical attention to detail helps your MainStreet Design Build team work their magic by doing much more with far less. We can't wait to replace your existing products with a creative array of painted brick, new siding/trim, copper gutters and downspouts, shutters, garage door, and stunning lighting. You'll be amazed how tweaks can upgrade a good exterior into a great one.
Modify Home Features and Update
The devil is usually in the details, so the angels at MainStreet know exactly how to redesign and embellish the details of your renovated exterior. When a simple remove and replace isn't enough, your expert design-build team translates your vision of a dream home into beautiful but budget-conscious projects that make the entire makeover process a breeze from start to finish.
Following our proprietary "3 D's" process, your dedicated makeover team will Design, Develop, and Document a new exterior that thrills friends, family, and neighbors alike: Imagine redesigned bay windows, new roof details at the porch, overhangs, and accent details featuring corbels, window boxes, stunning shutters, shaker siding, and even new capitals over windows.
Extreme Architectural Makeover & Renovation
When your taste and budget encourage taking your exterior renovation to a whole new level, trust your award-winning MainStreet dream team to make your dreams come true. When the sky's the limit your very foundation is flexible, with plans to replace, relocate, and redesign everything from walls to roof lines, porch details, and even essential structural components.
Let's get started! Redesign your entire porch and create an overhang; add copper roof detail as a visual zinger; apply new windows, doors, siding, and trim; recreate corbel details; go wild with exotic lighting and fixtures. No need to stop there, as MainStreet pros can utilize historic stone columns, and even build a new stairway and other major enhancements.
Don't Take Our Word for It…
Whether you update, modify, or go extreme with your exterior renovation, these projects are a big commitment. That's why your team at MainStreet Design Build leads by example, with an amazing Exterior Gallery for you to tour and gain inspiration from — feeling confident that for fewer dollars and more inspiration than you thought you can stay longer and feel much happier in your home.
While you're at it, check out our "Before & After" case study, featuring an exterior makeover & renovation of a gorgeous Craftsman home restored to its early 20th-century charm. You'll notice that our design experts start with the homeowners' vision, and plan the entire project around bringing their dream renovation to life with seamless collaboration, creativity, and class.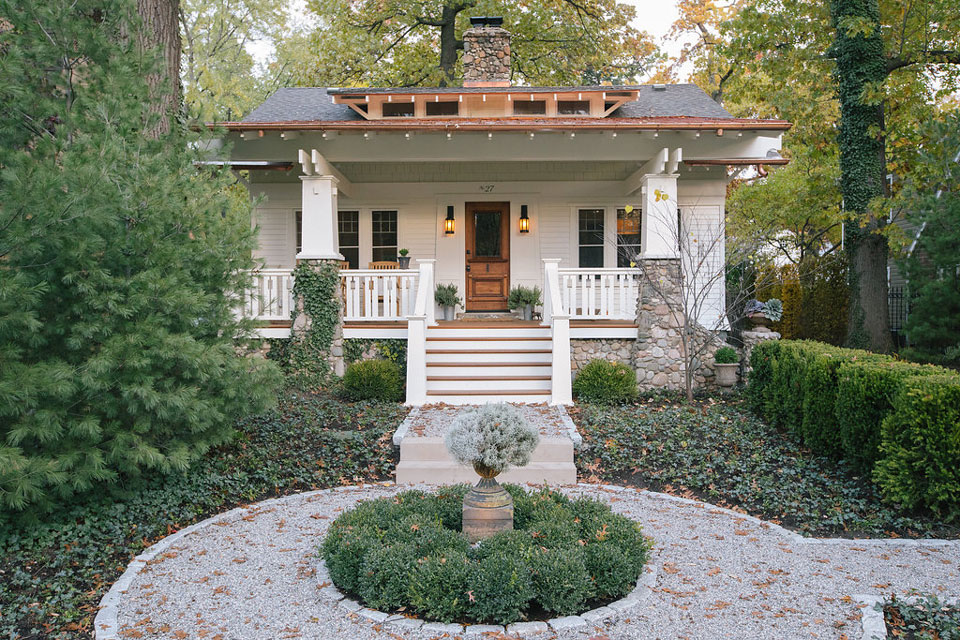 We Can't Wait to Talk to You!
Here at Mainstreet Design Build, we understand that the outcome of an exterior renovation of your home can literally change your life. Our mission is to keep you pleased every step of the way, and ensure your favorite home and comfortable neighborhood remain places you stay for years to come. That's why we empower everyone on our team to with the goal of "zero defect."
Nobody's perfect, but we come darn close by helping you create a vision, then setting priorities and expectations early. We consistently deliver thanks to taking responsibility to ensure that everything is done right. Our entire staff is physically and emotionally invested through every phase of the design-build process. Contact us so we can share our enthusiasm with you!
MainStreet Design Build exceeded my expectations with quality. They completed the work beautifully. The workers are super kind and helpful. They helped me move furniture and cleaned up and put away some things. They are very professional.
Questions?
Ready to talk to someone about your ideas? Simply call or fill out our online form and we'll be in touch!
---
Contact Information
Phone: (248) 644-6330
Fax: 248.644.2865
Email Us
Corporate Headquarters:
MainStreet Design Build
555 South Old Woodward
Birmingham, MI 48009
Office Hours:
M thru F, 9AM to 5PM
Serving Birmingham, Bloomfield, Bloomfield Hills, Pleasant Ridge, and select areas of Metro Detroit.